Omega and the Azure Witch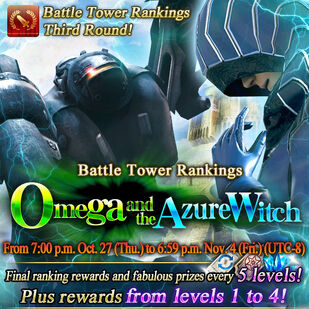 "
Who is this witch who defeated Voyd, and what is her purpose?
Defeat The ultimate weapon, Omega to uncover her motives!
"
~ Event Description
Battle Tower: Omega and The Azure Witch is an event in Mobius Final Fantasy and the sixth event temporary region released in the Global version.
Event Duration: October 27th, 2016 - November 16th, 2016
Event Type: Battling, Ranking
Select "Battle Tower: Omega and The Azure Witch" from the world map
This event is only accessible after a player clears the Runic Temple in Chapter 1
"
Omega and The Azure Witch
You've heard dark rumors surrounding the Tower of Trials...that an "Azure Witch" has taken control of it. Investigate the tower and defeat the witch's construct, Omega!
"
~ In-Game Description
The map is one giant tower with 50 levels. Every level has an Omega during the last battle. The difficulty increases every 10 levels. Other enemies can be found during the other battles of each levels.
There are 56 areas and 15 treasure chests.
Levels can not be revisited. There is a single Omega as the last battle on every level. The Omega becomes more difficult every 10 levels.
Level
Warning
Possible Drops
All

Omega sighted.
Beware wind attacks.
Levels
Stamina
Battles
Lowest Level: Abyss
N/A
1st-10th
4
2
11th-15th
16th-20th
5
3
21st-25th
26th-30th
31st-35th
36th-40th
41st-45th
7
4
46th-49th
Highest Level: Ragnarok
| Normal Enemies | Sub-Bosses |
| --- | --- |
| | |
"
Top Level Reached
Congratulations, you've reached the top of the Tower of Trials! The locations ahead, the Phantasmic Coil, is an endless area with new rules: no Rental Cards, and no Continues. How far can you go?
"
~ In-Game Description
Following the completion of Highest Level: Ragnarok, an extra area opens called Phantasmic Coil. It repeats endlessly, but costs the same amount of Stamina each time. The Warrior of Light can not use Rental Cards or Phoenix Downs.
Phantasmic Coil is made up of 5 extra levels that have to be played in order. Once completing the Phanatasmic Coil, it can be replayed for additional rewards. The difficulty of the each run increases after a completion.
| Name | Stamina | Battles | Battles 1&2 Enemies | Battles 3 Enemies |
| --- | --- | --- | --- | --- |
| Phantasmic Coil | 7 | 3 | | |
| | | |
| --- | --- | --- |
| " | There are treasure chests every five levels. Below is a list of items with each chest. In addition to valuable items such as crystals and Ability Tickets, you can win a Summon Ticket when you reach the top of the tower! | " |
| | ~ In-Game News | |
"
You will also receive rewards based on your ranking at the end of the event.
The more bosses you defeat, the higher your ranking and the better the reward.
"
~ In-Game News