Infinite Arena
"
Welcome to the Infinite Arena!
Push yourself to the limit through endless battles

"
~ In Game Description
Infinite Arena is an event in Mobius Final Fantasy and it is more than just a tournament-style battleground. With every battle you're in, you'll have a greater chance of unlocking extra skills!.
Event Duration: October 20 to November 16, 2016
Event Type: Collection, Hunting
Select "Infinite Arena" from the world map.
This event is only accessible after a player clears the Runic Temple Basement in Chapter 1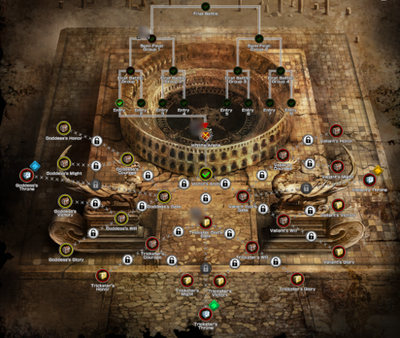 | | | |
| --- | --- | --- |
| " | On the stage of endless battle, in the coliseum of perpetual challenge, your worst enemy is yourself...your strongest opponent, Wol. | " |
| | ~ In-Game Description | |
The region is broken up into 4 different sections: The arena competition, plus three exploration sections. As you work through the arena competition, you will earn
Gladiator Trophys, used to unlock the areas in the exploration sections.
There are 41 areas in total with 24 locked routes and 25 treasure chests.
Location Name
Stamina
Battles
Chest
Notes
Entry 1
Novice: 10
Adept: 20
Master: 28
1
Teleportation Point

Use when you want to exit tournament

First Battle : Group 1
0
1
Semifinal : Group 1
0
1
Final Battle
0
1
Location Name
Stamina

(First Time)

Stamina
Battles
Feathers Required
Treasure Chest
Goddess's Gate
1
12
3
Gladiator Trophy x5
Gil x5000
Goddess's Courage
1
12
2
Gladiator Trophy x5
Fire Seed x3000
Goddess's Will
1
12
2
Gladiator Trophy x5
Water Seed x3000
Goddess's Might
1
12
2
Gladiator Trophy x10
Earth Seed x3000
Goddess's Honor
1
12
2
Gladiator Trophy x10
Wind Seed x3000
Goddess's Victory
1
12
2
Gladiator Trophy x10
Elixir x1
Goddess's Glory
1
12
2
Gladiator Trophy x10
Phoenix Down x1
Goddess's Throne
15
20
3
Complete Goddess's Area
Crystal x2

Mog Amulet★4 x1

Valiant God's Gate
2
14
2
Gladiator Trophy x20
Elixir x1
Valiant's Courage
2
14
2
Gladiator Trophy x20
Cactuar ★4
Valiant's Will
2
14
2
Gladiator Trophy x20
Metal Cactuar ★4
Valiant's Might
2
14
3
Gladiator Trophy x100
Phoenix Down x3
Valiant's Honor
2
14
3
Gladiator Trophy x100
Elixir x3
Valiant's Victory
2
14
3
Gladiator Trophy x200
Ability Ticket x3
Valiant's Glory
2
14
2
Gladiator Trophy x200
Ability Ticket x3
Valiant's Throne
15
20
3
Complete Valiant God's Area
Summon Ticket x1

Crystal x1

Trickster God's Gate
3
16
3
Gladiator Trophy x50
Ability Ticket x2
Trickster's Courage
3
16
2
Gladiator Trophy x50
Gigantuar ★4
Trickster's Will
3
16
3
Gladiator Trophy x50
Metal Cactuar ★4
Trickster's Might
3
16
2
Gladiator Trophy x200
Silver Opener x1
Trickster's Honor
3
16
3
Gladiator Trophy x200
Silver Opener x1
Trickster's Victory
3
16
3
Gladiator Trophy x400
Ability Ticket x5
Trickster's Glory
3
16
3
Gladiator Trophy x400
Ability Ticket x5
Trickster's Throne
15
20
3
Complete Trickster's Area
Extranger★4 x1

Summon Ticket x1

Crystal (x3)
Name
Location
Gladiator Trophy
Drops from:

Win any tournament
Fiends
Sub-Bosses

Mimett Dunes 2
Sylkis Sierra 2